Rick Faulkner - Guitar and Vocals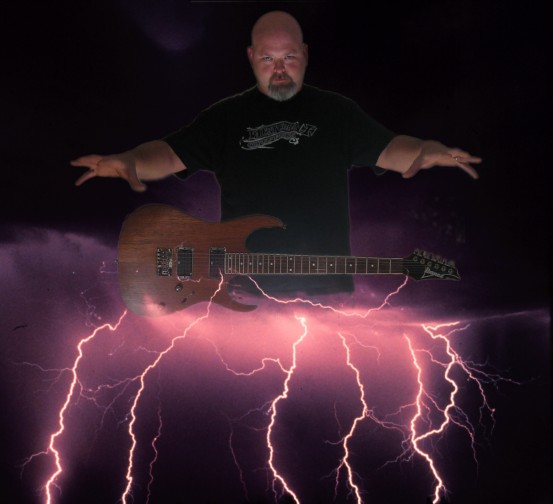 Rick's journey into music started at an early age. His father was in the military and had served his country in Viet Nam. Upon his fathers return from war he had brought home with him a reel to reel tape player. Little did his father know that he was about to ignite the fire that would burn in his sons heart and soul for a lifetime. The one song that grabbed his son's attention was by a popular young guitarist by the name of Jimi Hendrix, the song "Little Wing".... A few short years later his family invited a young recuit to share their home. the young recruits name was Jimmy. Jimmy also brought with him a set of drums and a love of music. Soon after there was a band. The gentlemen in the band were friends of Rick's father and were also in the military. Rick sat and listened to them play for hours and generated an interest in the drums. Jimmy was kind enough to let Rick sit at the drums and make noise, but Rick thought he was actually doing pretty good for a seven year old boy. After a year the family received orders to move to another base in the U.S. At this time Rick's little brother (Bob) was also in the picture. Rick's interest in the drums didn't go away. His family now lived in Little Rock, Arkansas and his taste in music was also changing. Up until now he had listened to mostly country, but also enjoyed the likes of Grand Funk Railroad. One day a friend of his named Tony introduced him to the band Kiss and a whole new brand of rock music was discovered. His taste in music was definitively changed for the rest of his life. He studied every aspect of the band and had all of their records. He was hooked on Rock N Roll. His mother was shocked to see the difference the music made in her son's young life. It was the middle of the seventies and disco (NOT REAL MUSIC) was ever so popular, but it was hard rock for Rick. Soon after he was listening to anything he could get his hands on..... Cream, Creedence Clearwater Revival, The Steve Miller Band, Allman Brothers Band, The Eagles, Boston.... The list goes on and on. The music surrounded him and took him to different places. In the seventh grade Rick took band and finally started his training in drums. He was a decent drummer but it was only the start of things to come. In 1978 Rick's family received orders to move to Florida. Upon this move Rick joined the Junior High School Marching Band. He played the snare drum in 8th and the tripple toms in the 9th. During the summer of '79 another friend of his dad's named Chuck came to visit. Chuck was an accomplished country music guitarist. Rick watched this man play the guitar for hours and also saw the pleasure it brought to his mother and father. Everyone was laughing and trying to sing along. This was a very important night for Rick, this was the night that he decided he wanted to learn how to play the guitar. At the age of 14 he struck up a deal with a family friend to cut grass for $10.00 a week to pay for an electric guitar. He bought the guitar and started the journey into the music. Many hours and hand cramps later he was able to play a few chords. Now he needed an amp. The amp was a little harder to get since his father liked country he was not going to buy an amp to listen to Rick play that noise. The amp did come and so did the bands. The best band was Justin Tyme in which Rick wrote and sang the songs. The band played parties and never made a big splash in the bar scene of Florida. But Rick still played like he was playing for the big arenas. Later on after a year or two the band split up and the family moved to Georgia..(1988) Rick found a job and didn't know anyone until he met the drummer of a band named Panda. The eighties rock scene was hitting its peak and the band was going to California to play the clubs on the sunset strip. Rick decided to go along as a bass technician (roadie). They played the strip as well as the other clubs in the valley. Things were going good but the tensions in the band made him decide it was time to go home. Little money and constant alcohol intake was making him home sick. In November of '88 he left Hollywood and returned to Arkansas and lived there for 6 years. He met a guy named Terry at his job. Terry introduced Rick to the blues. The blues had a tremendous effect on Rick. At Riverfest he saw Buddy Guy play a guitar like Hendrix did in the sixties. Every inch of the instrument was used to make the music. This was a turning point in Rick's musical life. He tried to incorporate the blues into hard rock and you can tell it in his music today. After a bad marriage Rick left Arkansas to return to Georgia and got reacquainted with his brother who in time had become an accomplished bass player. He and his brother didn't really play together until he was invited over to a jam session one night at his brother's house. Rick met Bob's friends, Robert who played drums, and John who played lead guitar. They played and finally decided to put some music together instead of just making a few short bursts of something that sounded cool. They formed Delusional Mind and the rest is in the future.................


M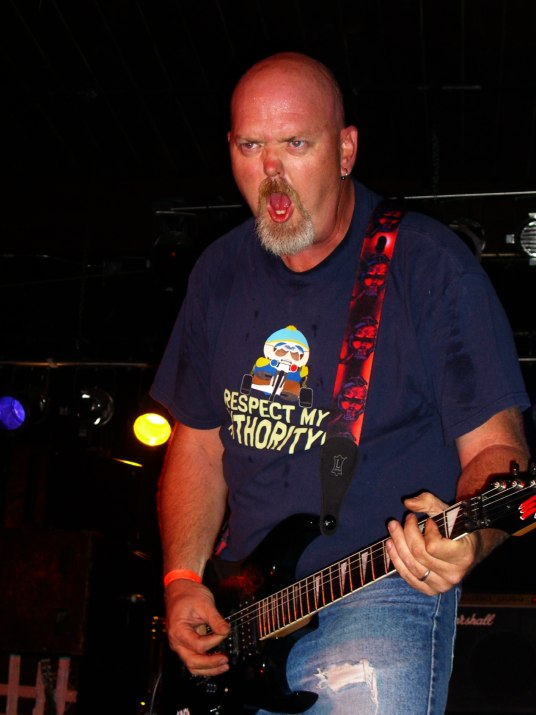 Musical influences: Jimi Hendrix, Eric Clapton, B.B. King, Hank Williams Jr., Willie Nelson, Waylon Jennings, Roy Clark, Stevie Ray Vaughn, Joe Walsh, Rick Nielson, Dave Mustaine, Kirk Hammet, Dimebag Darrell, Scott Ian, Merle Haggard, Randy Rhoads, Steve Vai, Eddie Van Halen, and any other regular guy who had the guts and determination to learn how to play and enjoy the music that he created.... R.F.


Lightning storm image used in Rick's picture provided courtesy of:
National Oceanic & Atmospheric Administration (NOAA), U.S. Department of Commerce
Image of Rick on stage by Throatpunch Paul ©2007, used by permission.