John Ward - Guitar and Vocals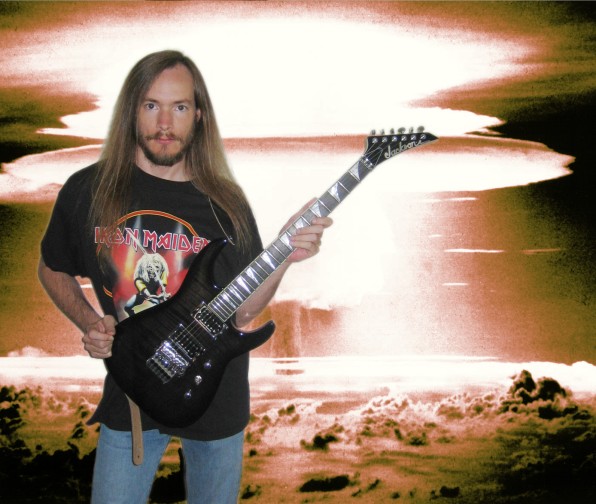 Music has been in John's veins since birth. Much of his family has been accomplished musicians at one point or another. His Grandfather was a Jazz Saxaphonist for several years playing the jazz scene of the late 1950's. His cousin is still a well known Canadian Folk Singer.Other family members played several different instruments and John was no exception. Following in his father's footsteps, John took up the trombone in 5th grade band. While he did enjoy playing it, in his heart he knew it was not the instrument for him.

On a hot summer day in 1983, John walked by the local music store and decided to go inside. When he walked through the doors he was overwhelmed at what he was hearing over the stores stero system. He walked up to the man at the counter and asked "What are you playing on the stereo?" The man replied "Thats Eddie Van Halen". It was then that John had found the instrument that had been calling him all those years. He asked his mother to get him a guitar for his birthday. When the day finally came John found himself in the possession of a Gibson Acoustic guitar. It was not the electric that he hoped for, but was a great way to get him started in learning the instrument.

By the time John was in High School he had been working to save up some money to get some new equipment. He purchased his first electric guitar, a Shane Targa Signature series and a Roland practice amp. He practiced every day for hours. When he was 16 he met a drummer named David Long. David and John became very good friends and David asked John to come over and jam with him and his friend Kenneth, who was an amazing keyboard player. The three blended very well togther and started to practice 4 days a week. They brought another friend from school named Shane who was a great bass player, and the four formed "Grave Danger". Playing mostly cover songs of popular 80's metal, the band played parties, talent shows and even a few gigs down at a few local Atlanta clubs. By the time John was finishing High School he was longing for something more creative. He parted ways with Grave Danger and started to pursue a Degree in Music Performance at Kennesaw State University.

Not knowing the path he should follow, he signed up for Jazz guitar lessons. He had a great instructor that helped shape his improvisational skills and soloing techiques. John found it very difficult in getting other members needed to perform the recitals that he needed to do to advance in his degree. He decided to change gears and began studying classical guitar. The flood gates opened at this point and John had found his nitch. For the next 3 years he ate, slept, and breathed classical guitar. The knowledge he gained he put to good use in his own creative outpouring of compositions.

During this time He started playing with an old Highschool friend, Bob Faulkner. Bob and John jammed with John's long time best friend Gray Sarandos. The three just enjoyed jamming and having a good time until Gray decided to put music aside for a time. From there Bob and John hooked up with Robert Riness, a drummer that Bob had known. The three jammed on and off for several years. Bob got a house with a basement and the jamming became more regular. Bob's brother Rick had moved back to Georgia and came over to sit in with the three for a jam or two. From there the four became melded into Delusional Mind and started seriously composing and recording.


M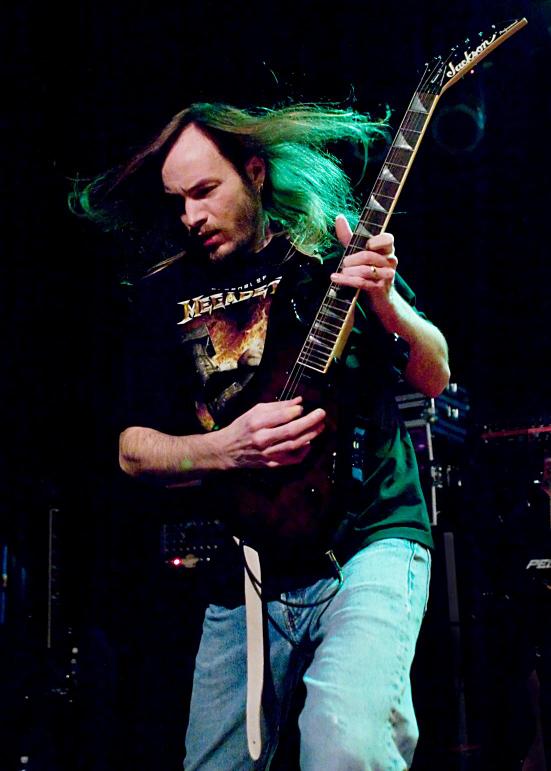 John's Influences: Edward Van Halen, Randy Rhodes, Al DiMeola, Stevie Ray Vaughn , Steve Vai , Joe Satriani , Yngwie Malmsteen , John Petrucci, Alex Lifeson , Marty Friedman, Dave Mustaine , Kirk Hammet , Adrien Blue , Robert Frip, Steve Howe , Trevor Rabin, Toni Iommi.


Mushroom cloud image used in John's picture provided courtesy of:
US Department of Energy. Castle Bravo nuclear test. (15 Megaton).
Image of John on stage by Esa Ahola ©2007, used by permission.