Delusional Mind's, "Death Grip" demo CD.
Details:
Standard CD audio tracks for the songs:

My Pain
There And Back Again
Rage
Edge Of Lunacy

Mixed mode CD also contains:

Copies of all 4 songs in both FLAC and quality 8 Ogg Vorbis formats.
Pictures of Delusional Mind's show at Sidelines, December 29, 2007.
Video of Delusional Mind playing "There And Back Again" recorded live at the Masquerade, Atlanta, GA. November 24, 2007.
PNG versions of the CD cover and label.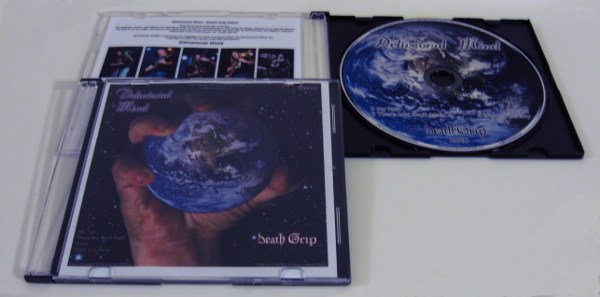 The video on this CD is encoded with the Xvid codec. Any MPEG-4 ASP compliant decoder should be able to decode and play it. The audio portion of the video file is encoded using MPEG 1 layer 3. If you are running Windows you may need to install a codec pack to play the audio and video files on this disk. The following link should take you to the ffdshow codec pack download page http://sourceforge.net/projects/ffdshow-tryout.